Metallurgy Ultrasonic Testing (UT)
Ultrasonic testing is used to find internal defects or flaws within your material. In our testing, ultrasonic waves are transmitted to the material through a couplant. The signals that are received back determine whether an obstruction or void is present within the material. Ultrasonic flaw analysis can show any inconsistencies within a material sample.
Ultrasonic Testing Advantage: Portability
One advantage of ultrasonic testing and eddy current testing is that it can be done at your facility. Our level 2 technicians carry our portable ultrasonic testing units to your location to conduct non-destructive tests on your material. A Sonatest 250 is used to identify internal voids or other subsurface irregularities. We perform testing to a variety of common international and customer standards. Since results are immediate, you'll know how to respond to any flaws quickly.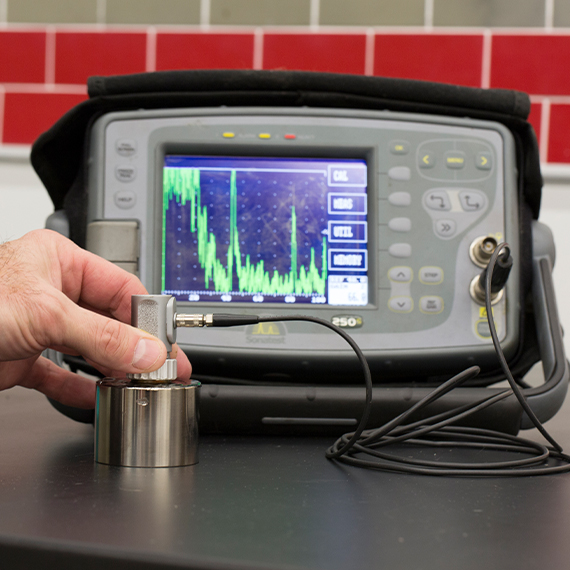 Please complete this form with basic information about the testing or analysis you need. We typically respond within one business day by phone or email to discuss your requirements and finalize details to complete your order.
Please note: Titan Metallurgy typically focuses on metals for industrial use, although we do enjoy a bit of historical metallurgy from time to time. Unfortunately, we can't date or value metals or minerals and don't have the ability to test rock, ore, or meteorites.