Metallurgy Microhardness Testing Services
Microhardness testing, or case depth analysis, is a method of checking hardness using a lighter load and smaller indenter. It's ideal for samples that are too small or too thin to test with the Rockwell hardness testing or Brinell hardness testing methods.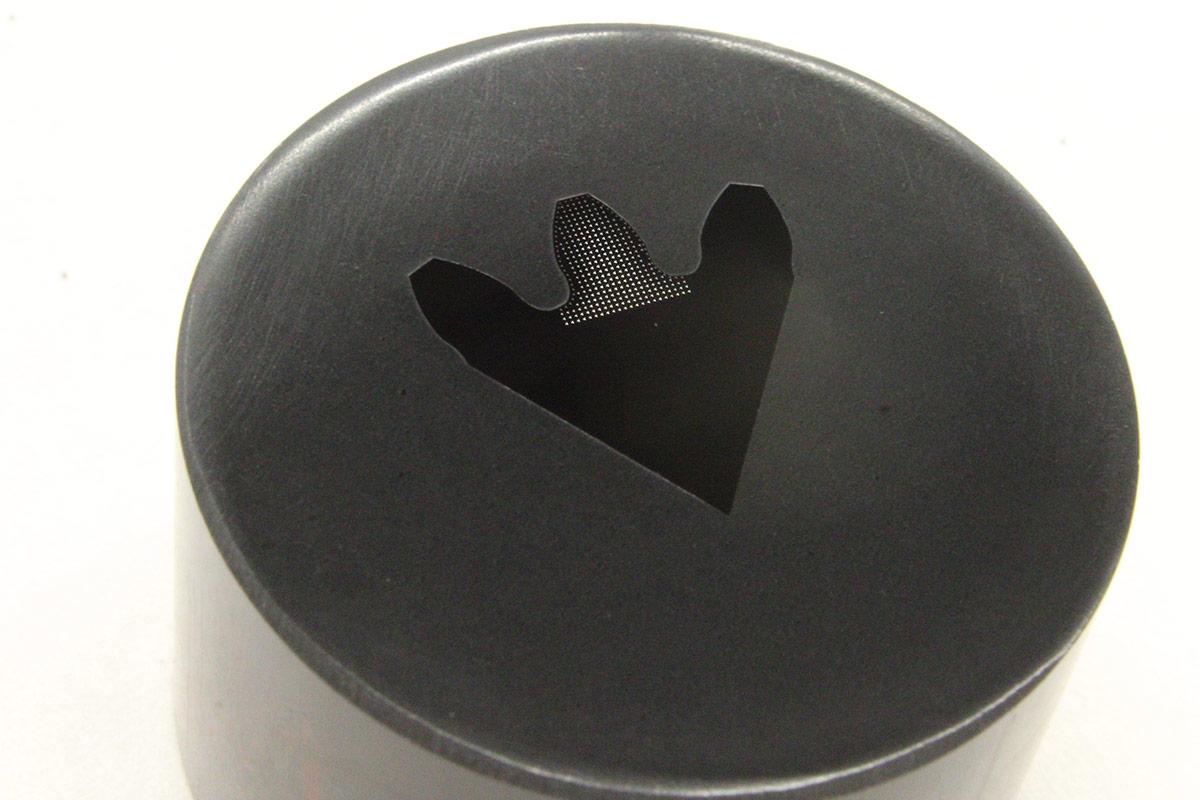 Microhardness traverses – a line of indentations – are commonly used to check for effective case depth on parts that have been carburized, nitrided, induction hardened or surface treated. It can check the hardness of thin coatings or characterize hardness variation through a cross-section.
Microhardness Testing Capabilities
At Titan Metallurgy, our microhardness testing equipment can test Vickers and Knoop scales in loads ranging from 0.05 kg (50 grams) to 1 kg (1,000 grams).
Combined with high-quality optics, our microhardness testing equipment is uniquely capable of checking:
Case depth and hardness in multiple locations
Coating hardness
The hardness of small diameter wire of a thin gauge sheet
The hardness of a phase or constituent in a matrix
Our state-of-the-art software allows for programmable patterns and locations that provide ultimate flexibility and microhardness testing speed. Our multi-specimen holder can program many locations and patterns in a sample, making it optimal for production work.
Our expert metallurgists set up various pattern and location combinations and let the instrument go to work. That reduces your testing costs and allows for quick turn-around time.
We can contour a curved surface and make a color map of any cross-section. Titan Metallurgy maintains strict calibration intervals, and we verify the accuracy and precision of the machine before each test with NIST traceable reference standards at individual test loads.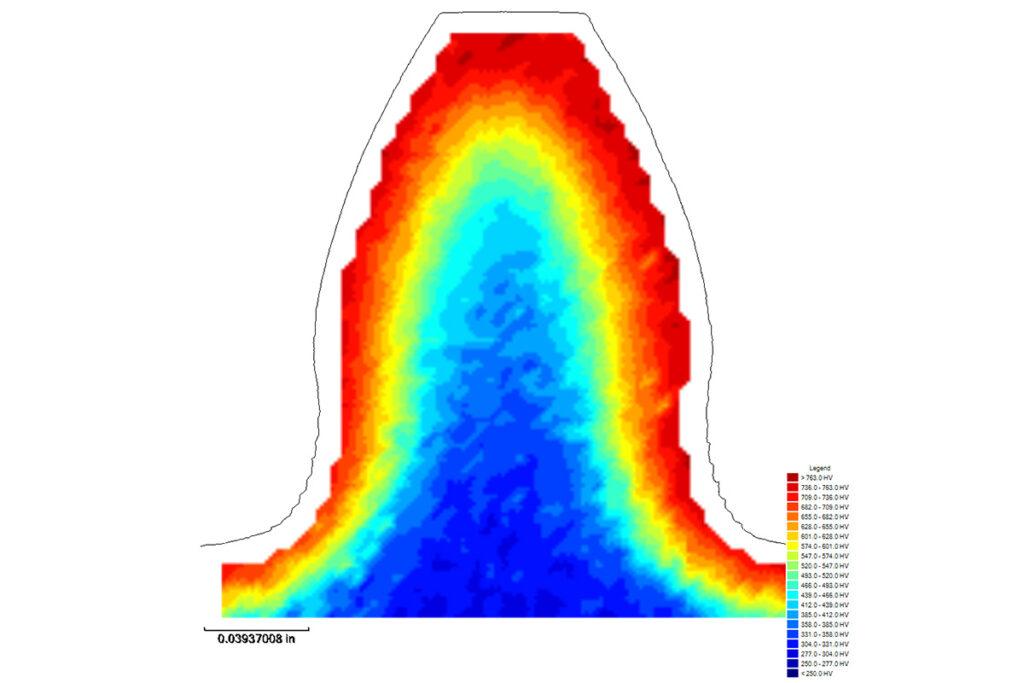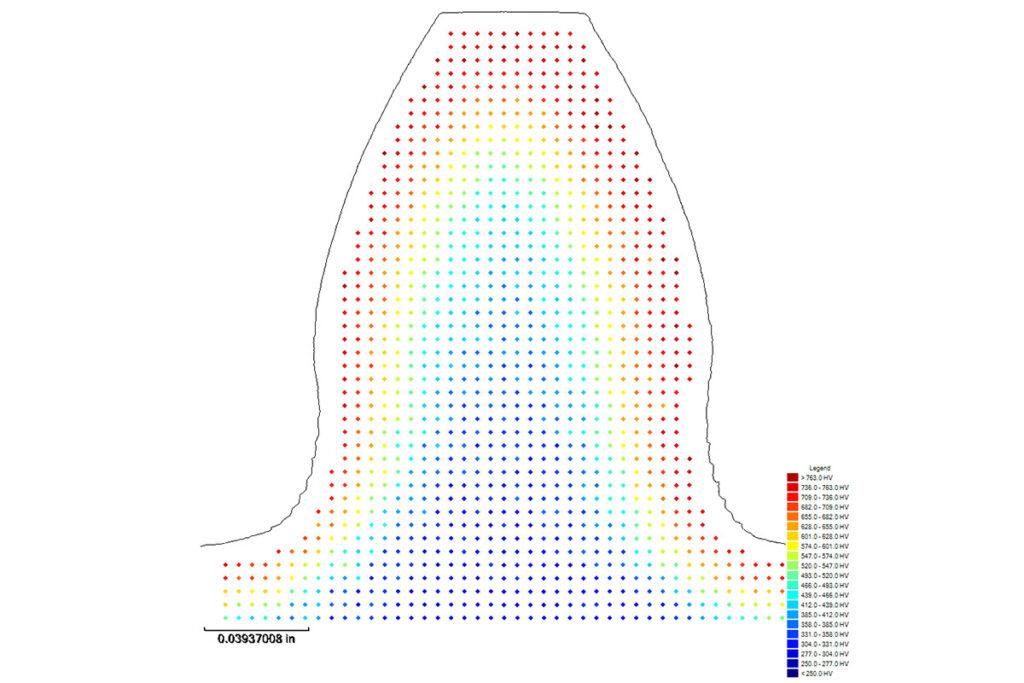 Vickers Testing & Knoop Testing
We perform hardness measurements based on Vickers and Knoop scales.
Both methods use a diamond indenter pressed into the specimen for a defined dwell time, and the indentation is measured optically. The Vickers indenter uses a pyramidal indenter that creates an indentation with four nominally equal sides. Two diagonals are measured and averaged. That value is converted to a Vickers hardness number (Hv).
The Knoop hardness indentation uses an elongated pyramidal indenter in which one diagonal is much longer than the other. The long diagonal is measured and converted to a Knoop hardness number (Hk).
Our expert metallurgists are available to discuss the most appropriate scale and test method for your part or process.
Microhardness Testing Lab Standards
Microhardness tests are performed to common international standards such as ASTM E384.
Request a microhardness testing quote today or contact us for more information.
Please complete this form with basic information about the testing or analysis you need. We typically respond within one business day by phone or email to discuss your requirements and finalize details to complete your order.
Please note: Titan Metallurgy typically focuses on metals for industrial use, although we do enjoy a bit of historical metallurgy from time to time. Unfortunately, we can't date or value metals or minerals and don't have the ability to test rock, ore, or meteorites.