On-Site Chemistry Testing & PMI
We offer portable spectrometry analyses for on-site chemistry testing that use the same technology as our in-house lab spectrometer in a convenient package. Its portability allows us to perform sorting and grade identification on bundles, coils, and large parts at your facility. On-site chemistry testing services are available if you require an analysis of a sample that is too large to ship.
Optical Emission Spectroscopy
Our portable spectrometer uses optical emission spectroscopy (OES) to provide a comprehensive chemical analysis of your sample. OES uses an electrical discharge to excite the atoms of your metal sample, causing them to give off radiation in the form of light energy.
Here's how the process works:
Energy is supplied to the atoms of your metal sample.
The electrons inside the atoms move from the ground state to an excited state.
Because electrons cannot stay in a permanently excited state, they release their energy in the form of light before returning to their initial orbit.
The light energy is measured based on its wavelengths and the intensity of its spectral lines. The wavelength range is usually between 120 and 800 nm.
Iron, Steel, Stainless Steel, and Tool Steel Analysis
Our expert team of metallurgists can bring on-site metallurgical chemistry analysis to your doorstep. With our portable spectrometer, we can analyze:
Stainless steel
Tool steel
Alloy steel
Plain carbon steel
Free cutting steel
Cast irons
Titan Metallurgy maintains strict manufacturer calibration and service intervals to ensure precision and accuracy in our testing. We also have a large library of NIST traceable standards, which can be brought on-site for verification.
Request a quote online and contact our team to schedule your on-site chemistry analysis.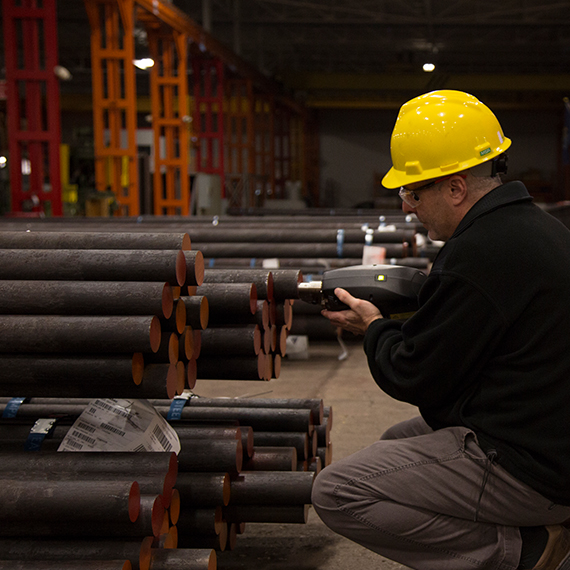 Please complete this form with basic information about the testing or analysis you need. We typically respond within one business day by phone or email to discuss your requirements and finalize details to complete your order.
Please note: Titan Metallurgy typically focuses on metals for industrial use, although we do enjoy a bit of historical metallurgy from time to time. Unfortunately, we can't date or value metals or minerals and don't have the ability to test rock, ore, or meteorites.